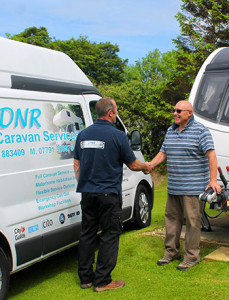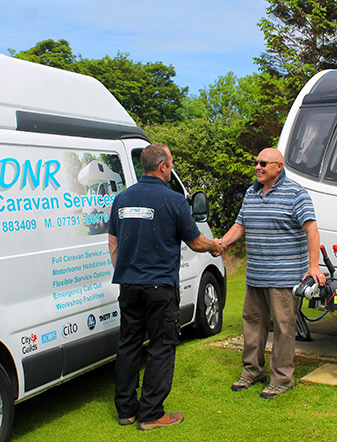 DNR Caravan services are authorised to carry out servicing on all British made caravans including Swift, Bailey, Coachman, Lunar, Elddis and more without affecting your caravans warranty. Unfortunately, some dealers insist when you purchase your caravan from them that they are the only ones who can carry out the servicing on that caravan otherwise it will invalidate your warranty – this is NOT the case.
Alde Systems – Alde insist that the fluid mix within your system is changed at 2 years to ensure full warranty of their system – we can do this and changed the mix, offering a further 5 years protection after the change.
Chassis:
More suited to caravans in storage – it includes greasing and inspection of the tow hitch, damper, handbrake assembly and corner steadies.
Roadworthy:
Chassis service plus stripping, cleaning and adjusting brakes – brakes rods, tyre inspection and pressures and the road lights and 12s operation.
Habitation:
Aimed at either a Motorhome or a caravan – everything internal – water system, electrical (240v and 12V) gas system – fixtures, fittings, external steadies, steps and underslung tanks, a full inspection of seals and lockers and a comprehensive damp report.
Gas Test:
Includes operational check of all equipment, visual inspection of hoses, flues and terminals, a full gas leak/pressure test and carbon monoxide test.
Electrics:
All 240v and electrical systems including battery – chargers – sockets – operational check of all electrical equipment and a visual inspection of wiring – rcd testing, earthing and bonding, leisure battery and chargers.
Damp Report:
A full and comprehensive report of your caravan or motorhome, highlighting possible areas of water ingress.
Full service:
All of the above plus an full external inspection of seals – chassis, brakes and running gear, water system, gas, all electrical systems (including 12v and 240v) electrical systems, fixtures, fittings and a comprehensive damp inspection.
Pre-purchase:
Vital if you are thinking of buying a caravan or motorhome. Do you really want to hand over your hard earned cash before knowing your investment is sound?